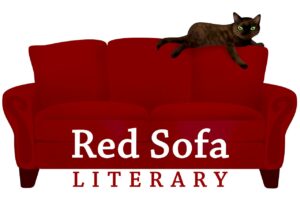 Red Sofa Literary is a boutique literary agency originally established in the Twin Cities, MN. Much like a good book, our agency appreciates an author who brings a compelling narrative and a passion to the art of storytelling.
We believe the best ideas come via engaging conversations and over good coffee, sometimes while relaxing in a colorful lounger. Our mission is to celebrate a life of reading and geek culture, where brains always win over brawn.
For more info on our agency, please see our submission guidelines, posts and more. Enjoy!
Courtney Denelle's debut novel, It's Not Nothing, was published by the Santa Fe Writers Project in September 2022.
Rachel Smoka-Richardson has an MFA in Writing for Children and Young Adults and a certificate in Picture Book Writing from the Vermont College of Fine Arts.
Camille Licate
Camille Licate is the Founder of Camille Licate's Kids for Positive Change(tm), a multi-media educational company designed to teach and inspire kids to take positive action for animals, people and the planet.
Chas Smith is a regular contributor and editor-at-large of Surfing Magazine and has contributed to Vice, GQ, and the New York Times Magazine.
Dawn Frederick
Dawn Frederick is the owner of Red Sofa Literary. There's a good chance she's curling up with a good novel or quirky history on the sofa, or nerding out over the newest Ryan Murphy TV show. She has a B.S. in Human Ecology, and a M.S. in Library and Information Sciences. Read More >>
Liz Rahn
Liz Rahn is the Subsidiary Rights Agent for Red Sofa Literary, handling all film/TV, audio and translation rights for RSL titles. She enjoys stories with strong, complicated characters and compelling narratives. Liz received her BA in Literature from Concordia College and has a certificate in Publishing from Denver University. Read More >>
Riley Jay Davis
Riley Jay Davis (they/them) is a longtime book lover with degrees in English and Anthropology from Hamline University. They have a background in bookselling and publishing. Their preferred book genres. Read More >>