By Dawn Frederick
As assumed, many of our readers are on the final day of NaNoWriMo and possibly on the verge of wrapping up their books.  Here's where all of us at Red Sofa Literary, and assumedly others of our cloth, want to encourage the next step: editing, revisions, and fine-tuning all the hard work done this month.
So that this process can be fully executed, here are a few books worth the investigating: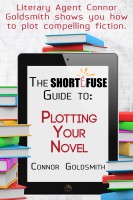 THE SHORT FUSE GUIDE TO PLOTTING YOUR NOVEL by Connor Goldsmith
I highly encourage anyone writing fiction to check out this handy guide. As Connor, a fellow literary agent writes, and which anybody else who works with books will confirm, every novel needs a plot. In this reference book, Connor shares tips on how to ensure a plot is fully fleshed out.  One of my favorite discussions is the Love-Fear Axis, as the evidence of this axis adds to the depth of any plot. From tips on how to keep readers engaged on the early pages, to developing a strong protagonist, and more, this should be required reading for anyone who's in the revision and early stages of a novel.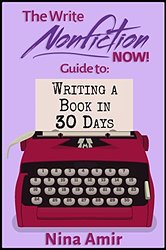 WRITE NONFICTION NOW! GUIDE TO WRITING A BOOK IN 30 DAYS by Nina Amir
Now that we've discussed fiction, it seems appropriate that nonfiction receive an equal share of our attention. Taking #NaNoWriMo and marrying this concept to nonfiction, Nina helped lead the way in #NaNonFiWriMo.  Specifically the concept of 30 days in writing a nonfiction book. Nina easily presents this process, which can be accomplished with some advance planning and research on the front end.  Additionally, the same expectation is presented, in that the book will need to be edited, etc, after those 30 days. One of the reasons I really like this book is that Nina is painfully honest that not every single idea necessarily needs to become a book (so true!), and that it's important to know the potential reach of any idea. Many good tips are presented, some of which we've discussed here on our blog.  Now I can only hope we'll see more NaNonFiWriMo next year!  🙂
AUTHORPRENEUR by Nina Amir
One of the biggest things anyone will tell a writer is to not give up the day job just yet. Does this make the person less of a writer?  No.  Let's face the reality of today's publishing industry – book advances are lower than 10 yrs ago. We're also facing some stiff competition from online retailers who sell books at a loss.
The upside is that it seems more people are reading; and from my own observation, all those kids who grew up reading Harry Potter (many, many children) are now adults. Some of those former kids now even work in publishing. And it's no surprise that these readers now have children of their own. (Readers have multiplied).
In this reference guide, Nina provides sound advice on how any writer can grow a larger platform; along with tips on thinking outside the box in building a larger revenue stream. A particular section I really appreciated was products/services portion of writing ideas.  I am of the belief that executing even a few pieces of  Nina's advice could easily assist a writer on the transition from work & writing to full-time writing.  I'll be recommending this book for a long time.


Thanks to everyone who took the time to read our posts for this year's NaNoWriMo.  And many thanks to Hannah, our amazing intern, who created our theme this year and ensured we completed these post on time.  Happy NaNoWriMO and NaNonFiWriMo to our readers and writers, now go celebrate all your hard work.