By Eric Smith
When my first book came out in 2013 with Quirk Books, The Geek's Guide to Dating, I received a surprise string of Gchats from one of my good friends, Shaune. We grew up together in the punk-rock scene in New Jersey, and now, as adults, I work in publishing and he works as an accountant. The conversation went something along the lines of this:
"Eric! Congrats on the book deal!"
"Hey thanks dude!"
"What did you do with the advance? How are the royalties structured? Do you have an accountant? Did you save anything for taxes? Are you keeping track of purchases that have to do with your book? What about travel?"
"Wat."
It was something I hadn't really thought about. The advance? Straight to student loans it went. I hadn't really thought about taxes or anything like that.
What Shaune was quick to teach me, was that as a writer, there are a lot of things to keep in mind when dealing with taxes… both in terms of what you get paid, and in terms of what you put in to your writing. Here are some bits of advice I've been given, that will hopefully help you guys out in your writing, both pre-and-post publication.
Keep Track of Relevant Purchases: Did you know you can write off books? It's true! While working on The Geek's Guide to Dating, I read a bundle of dating books, and was able to write them off. Same with Inked, though I wasn't reading books on relationships. I'd picked up a bundle of YA fantasy novels the year I was editing that book.
But that's not all. Need a new laptop while writing? What about all those Moleskine notebooks? Keep track of these things. If they are required aspects to your writing, they can be written off at the end of the year. Will writing off a dozen books make a major dent in your taxes at the end of the year? Probably not. But hey, every little bit helps.
Record Book-Related Travel: One of the big questions Shaune asked me after my first book came out and I was working on the second one, was regarding travel. I go to a lot of conventions, and luckily, a lot of it is paid for. But some stuff comes out of pocket, particularly when we're talking about trips for research and writing retreats.
Research trips and writing retreats can also be written off, you guys! Keep track of your travel. Mark down those receipts.
Save Money from Advances & Royalties: Published? Congrats! SAVE SOME OF YOUR ADVANCE AND ROYALTY MONEY. Seriously. Chances are, it isn't taxed yet, unless you have some weird arrangement that I've never heard of before. Make sure you set aside some of it, otherwise, come tax season, you're going to get slammed with a big ol' lump sum that you'll have to pay, but can't, because I really wanted that new Xbox you guys.
And there you have it. Three important things to remember. Write off books, write off travel, and save some of that money you're making.
Now I know, you're probably exhausted thinking of how you're going to keep track of all this stuff. The best way to do it? Have a credit card that you only use when it comes to your writing. It'll help you keep track of what you're spending, when you're spending it, and where.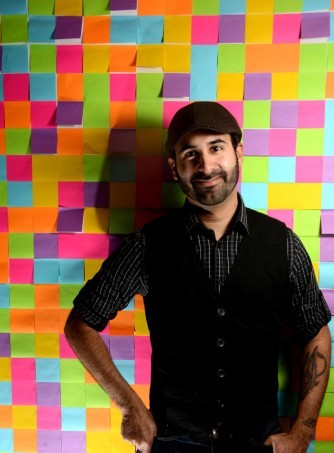 Eric Smith is an author, prolific book blogger, and literary agent based in Philadelphia. His debut humor book, The Geek's Guide to Dating, was published by Quirk Books in December 2013, named a Book of the Year selection by Amazon and PopSugar. His first Young Adult novel, Inked, was published by Bloomsbury Spark this past January, and the second book in the series will be released in May 2016. His Geek's Guide has been published in eight languages, with both already in audiobook and having a large reach; from appearing on the cover of the Metro in Philadelphia, New York, and Baltimore, to being spotlighted on NPR, Teen Vogue, Mental Floss, and more.
Smith's writing has appeared in BuzzFeed, BoingBoing, Geekosystem, The Huffington Post, The Bygone Bureau, The Apiary, and in The Head & the Hand Press' print anthology, The Asteroid Belt Almanac. He's a regular (and one of the earliest) contributors to the popular book news site BookRiot, as well as Paste Magazine's books vertical and Barnes & Noble's Teen Reads blog.  He previously worked at Quirk Books, the indie publishing titan responsible for the New York Times bestsellers Pride & Prejudice & Zombies, Miss Peregrine's Home for Peculiar Children, and William Shakespeare's Star Wars. He worked on the marketing campaigns for all of these, as well as Ben H. Winters' Edgar-award winning The Last Policeman. The book trailers he's produced have been featured on Mashable, CNET, and have pulled in over two million views.