By Chas Smith
I like to write more than almost anything. I like to write more than I like to surf, more than I like to shop in label-hooker shops. More than I like feeling the warm sun on my face. Writing came to me not because I have any talent, at all, but because I fell in love with writers. I wanted to be Albert Camus with his flipped collar and jaunty cigarette. I wanted to be Tom Wolfe in his impeccable white suit. I wanted to be Norman Mailer, boozy Norman Mailer, getting in fights, getting beat up by rivals, getting laughed off the stage after delivering an awful boozy performance.
Writers eclipse all the stars of the universe, who could possibly disagree, and the only way to become a writer was to write.
Just after 9/11 my two best friends in the world and I went to Yemen to be the first ever surfers up its mainland coast. I had heard on the news that Osama bin Laden's family had come from the hills surrounding the city Al Mukallah, found it on a map and stared at the coastline. There had to be surf there. Just had to be.
We financed the trip, partially, by pitching stories to surf magazines even though none of us had ever written more than a school paper. My friend Josh would write for Surfer and I'd write for Australia's Surfing Life. Months later we were there, wild explorers living literary dreams. We were like Livingston, Burton and T.E. Lawrence with his steely blue eyes pointing out across the desert.
We found surf, yes, got in trouble, very much so, and lived by the seat of our threadbare boardshorts for three months. Al-Qaeda chases, shootouts, pirate encounters, etc. The story should have written itself.
Except I wrote it.
I remember feeling like a future Pulitzer Prize winner as I punched my computer keys. I was doing the exact same that Evelyn Waugh, Joan Didion and Hunter S. Thompson had done. I was one of them. Maybe not exactly one but in the room or maybe in the yard. I emailed the story to the editor, pleased as pie, then went out to the mailbox to wait for the issue to arrive in the mail.
Three further months later it was there. I ripped off the plastic sheath, threw the surf DVD aside, furiously pawed through the pages and found my story.
It was the worst thing anyone had ever written on earth. Pompous, ill-informed, narcissistic, horribly paced, littered with first person-pronouns. I buried my head in my hands, all dreams crushed, all hopes dashed.
I would never be a writer.
A few months later found my two best friends and me in Lebanon, working on a story for Vice. Josh, writing well and smartly, kept sending stories in which came back with notes before I decided to give it a crack, writing a pompous, ill-informed, narcissistic, horribly paced piece littered with first-person pronouns.
Vice accepted it instantly and look at me now. Look at me, damn it. In all truth, though, I have fallen deeply, hopelessly in love with writing and will never stop again even if I'm my only audience.
Narcissistic Nirvana!
_____________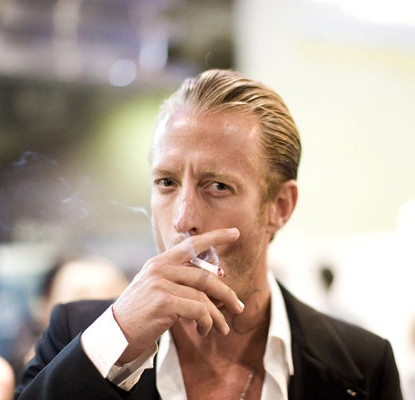 Chas Smith is the author of Cocaine + Surfing (Rare Bird Books, 2018) Welcome to Paradise, Now Go to Hell (It Books, November 2013), which was optioned for television by Fox 21 ("Homeland" and "Sons of Anarchy") with producers at Television 360 ("Game of Thrones") and a finalist for the PEN Center USA Award for Nonfiction.
Chas began his writing career as a foreign correspondent, penning pieces for Vice, Paper and Blackbook, amongst others, from Yemen, Lebanon, Syria, Somalia, Azerbaijan and Colombia which led to a brief career as a war correspondent for Current TV.
After being kidnapped by Hezbollah during the 2006 Israel-Lebanon war he transitioned to surf journalism where he was a featured writer at the brash Stab before becoming Editor at Large at Surfing Magazine. There he developed a reputation as the most controversial voices in the space. Matt Warshaw, author of the Encyclopedia of Surfing, calls him, "Bright and hyper-ironic." William Finnegan, Pulitzer Prize winning author of Barbarian Days, says that Chas, "…calls it like he sees it and in surfing that's not usually the case."
Chas Smith has been co-owner of a surf website, BeachGrit.  BeachGrit has been expanding across multiple platforms in the categories of snowboarding, fashion, politics, skateboarding, MMA wrestling, and more.