By Dawn Frederick
During the 2013 Madison Writers' Institute, I had the treat of seeing a panel on books and the film industry; where the panelists discussed how books are chosen and/or adapted into films – and vice versa.  For my book-obsessed self, this was quite the informative panel.  So much that it motivated me to read MAKE YOUR STORY A MOVIE by John Robert Marlow.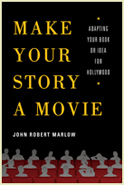 MAKE YOUR STORY A MOVIE was an eye opener, confirming that even screenplays have the same challenges that books face during the publishing process.  Marlow confirmed that film agents have the same requests that screenwriters follow basic submission guidelines: including standard fonts, spacing, and standard pitches (i.e. the equivalent of a query letter).  Marlow even encouraged screenwriters to appreciate the "white space" on the materials provided – to which this should equally motivate book writers to double-space their manuscripts too (which still seems to be a difficulty with some).
Throughout MAKE YOUR STORY A MOVIE, there were many exercises and examples provided by Marlow.  I particularly appreciated his candor regarding a set of questions (for book writers) in confirming if a book idea has film potential.  These questions came shortly before Marlow's checklist of things movie studios are seeking for today's book-to-film adaptions.
One of my favorite discussions was the commerciality of screen plays and book adaptions based on the "Four-Quadrant Appeal" – specifically young males, older males, young females and older females.  Marlow shares that the greater the reach to these quadrants (more is better) will reinforce the commerciality of a screenplay.  The same can be said for books – how far is the reach of your book?  Is it written for one group, but brings the potential to reach additional readers?  The possible "markets" for a book = greater commercial potential.  The same goes for screenplays.
Other advice I found helpful included Marlow's Logline Workshops (check it out!), his advice on listening to the director's cut of any film to understand the nuances in how it was made, and that like any new book idea, a screenplay needs to be "ready to go" vs. a work-in-progress.
All in all, Marlow's book is worth reading for anyone who aspires to see his/her book adapted for the big screen.  MAKE YOUR STORY A MOVIE was chock full of good information, and I encourage others to take a moment and read it too.  Additional content related to the book can be found on John Robert Marlow's site (but definitely read the book first).