By Laura Zats
Hello, Everyone!
Today, Red Sofa is taking a break from our scheduled NaNoWriMo rants and raves and tips to talk about something new and exciting happening in the literary world. Because ebooks are doing their darndest to take over regularly printed books, indie publishing has grown as a method for getting your work out there. Additionally, many publishers and agencies (yes, agencies) are creating their own ebook imprints to feature the work of amazing authors while still following traditional publishing models.
Red Sofa Literary on one such agency, and we are going old school with our model: for our debut release for Red Sofa Books, we will be releasing a wonderful serial by Jeff Smieding.
For those of you not familiar, a serial is a book separated into parts, where the parts are released at regular intervals. Many years ago, this style of publishing was the norm. Charles Dickens' Bleak House was released a few chapters at a time, as were countless other classics, and we're hoping that our serials will become classics too.
Red Sofa will have lots of exciting events coming up to celebrate the release of THE SALT MACHINE, but first, we would like to share its cover!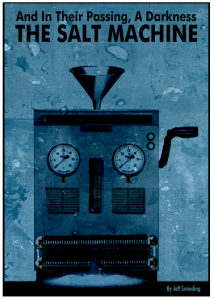 Jeff's book, which is available for purchase December 1, is a haunting middle grade novel that just begs to be read aloud. AND IN THEIR PASSING, A DARKNESS: THE SALT MACHINE, which will be released in three parts, tells the story of George and Vera Detzler, who live at the very edge of a dark forest. Their mother forces them to cry every night, and with the help of a special machine, turns their tears into a special salt that she sells for drinking money. When Vera runs away with a strange boy from the forest,  George learns that she may be part of a dangerous plot to bring magic back into the world. George finally finds her, and together the two must journey home—each step of the way more dangerous than the last. They must confront evil spirits, a monstrous wolf, and ultimately, the Salt Machine itself, if they want to survive.
Sounds fun, doesn't it?