The Path to the Book Cover
Beyond writing a book, there's the challenge of finishing the book. Knowing with all one's being that it's done. There's nothing more to write, that it's time to send this work of words out into the world. The sendoff is always a bit emotional, as it should be, since the book is ready to meet its readers. This week we'll be discussing the successes, seeing our authors' hard work pay off.
Today I'm giving the figurative high-five to Eric Smith, author of INKED (Bloomsbury Spark).
This YA fantasy is a work of love that Eric spent many hours/days/months/years working on. It went through many revisions, and even more once Meredith Rich acquired INKED. (She's an amazing editor!) The final version, which will be available in January, is even better. And knowing all the hard work that went into the editing process, my heart is extremely happy for Eric's success.
Recently we had the excitement of the cover reveal for INKED at Publishing Crawl earlier this month. That's when the experience becomes real, finally getting to see the book's cover. 🙂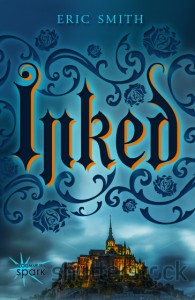 Congrats Eric!