By Eric Smith
I guarantee, that if you've been to any kind of publishing event, whether it's a convention or a writers' conference, you've heard the world "platform" being blasted around by industry folks galore. And if you've never worked on your "platform" it's probably a really frustrating thing to hear. How do you build a platform?
Well, there are a few things to note before I ramble.
Platform… well, it's super important when you're writing non-fiction, but not incredibly necessary when it comes to fiction. It's still a nice thing to have though, and we'll talk about that a bit more in a moment. With non-fiction, it's needed because it shows you are an expert in the field you're writing in.
If you present a non-fiction history book, well, showing some previously published articles, blog posts, or even your own website… that's platform. It's showing there's an audience for what you write, and a place that'll potentially talk about your book if it comes out.
Fiction… well, that's another story. How do you build platform around that? That's the question that gets raised the most. And really, it isn't about building a platform to elevate yourself up, but about actively engaging with the community who will eventually want to check out your book. The audience is there, you just need to find a way to talk to them.
Because your book, the one that isn't out yet (or maybe is!), isn't what's important in building your platform as a fiction author. It's the community, and being a part of it. Once you're part of that community, they'll support you, talk about your books, and help generate the word of mouth offline (because that's what will sell your book, not a million tweets).
Now, let's talk about the Good vs. the Bad in building platform, because there are some ways to do it that are absolutely wrong, that seem like they might be right.
THE GOOD
The best way to build your platform is by talking about the two things you care for the most. Writing and books.
Writing: How's your writing process going? More importantly, what can it teach others? Dish out advice, discuss things you've learned. Are there interesting resources you've discovered, that have helped you out? Has something totally not worked for you, and you've learned a valuable lesson?
There are endless ways you can engage in the writing community this way, and not just on your own personal blog, though that is a great place to start. Look for communities that already exist, and see if you can contribute something. See sites like Publishing Crawl for examples.
Books: What are you reading? Chances are, as a writer, you're reading all the time. After-all, that's how we become better writers, isn't it? Reading as much as we can? Share what you're reading. Make Top 5, Top 10 lists, and the like.
And again, this doesn't necessarily have to be on your blog. Find a place to talk about the books you love. Me, I write for spots like Barnes & Noble, BookRiot, and Paste, where I sound off about the books I adore. Use your voice to support others.
THE BAD
One of the worst ways to build platform, whether it's on your personal website or your various social media accounts, is to ONLY talk about you and nothing else.
If you're a writer and on Twitter, chances are you've seen it. That person who tweets non-stop about their own book, writes on their blog non-stop about their own book… and that's it.
This… is not the way to build a platform. You don't create your author platform around your book. You create it around you, the genuine you. The you that is a person, and not just an avatar that shouts "buy my book" like Jay Sherman in The Critic.
[Dawn, embed this video here https://www.youtube.com/watch?v=aDTwO0TlwOU]
"But I want to build an online brand for my book!" You exclaim.
No! Bad author.
Remember, there are communities out there that will support your book, so there isn't a real point in creating a community solely FOR your book. If you're registering a Twitter name, Facebook page, and website with the title of your book, a character, etc… stop. You're wasting your valuable time. Focus on yourself and interacting with the community that already exists. Build yourself up first.
EXAMPLES OF DOING IT RIGHT
Need examples? These three authors absolutely nail having an online platform that supports other writers while at the same time, supports their own writing.
Chuck Wendig: New York Times bestselling author of Star Wars: Aftermath and a ton of other amazing books (Under the Empyrean Sky is one of my favorite YA novels period), Chuck writes EVERY SINGLE DAY on his personal site, dishing out advice galore. He's one inspiring and hilarious guy.
Follow him at @ChuckWendig and visit his site at www.terribleminds.com
Dahlia Adler: Author of Under the Lights and the upcoming Just Visiting with Spencer Hill Press. You can find her writing a TON on her amazing blog (where she has some fantastic resources for writers) and over on Barnes & Noble.
Follow her at @MissDahlELama and check out her blog at dailydahlia.wordpress.com.
Delilah S. Dawson: Author of Hit and many other fantastic reads, Delilah is constantly writing on her personal blog, sharing tips for new writers and folks in the industry.
Follow her at @DelilahSDawson and check out her blog at www.whimsydark.com.
I highly recommend following those three, and that you spend some time on their respective sites.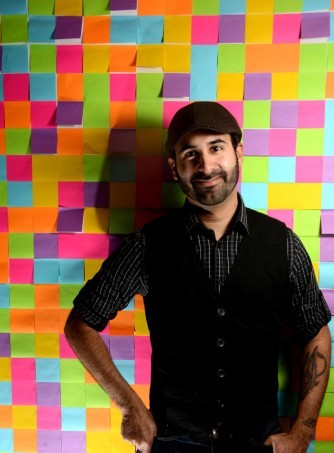 Eric Smith is an author, prolific book blogger, and literary agent based in Philadelphia. His debut humor book, The Geek's Guide to Dating, was published by Quirk Books in December 2013, named a Book of the Year selection by Amazon and PopSugar. His first Young Adult novel, Inked, was published by Bloomsbury Spark this past January, and the second book in the series will be released in May 2016. His Geek's Guide has been published in eight languages, with both already in audiobook and having a large reach; from appearing on the cover of the Metro in Philadelphia, New York, and Baltimore, to being spotlighted on NPR, Teen Vogue, Mental Floss, and more.
Smith's writing has appeared in BuzzFeed, BoingBoing, Geekosystem, The Huffington Post, The Bygone Bureau, The Apiary, and in The Head & the Hand Press' print anthology, The Asteroid Belt Almanac. He's a regular (and one of the earliest) contributors to the popular book news site BookRiot, as well as Paste Magazine's books vertical and Barnes & Noble's Teen Reads blog.  He previously worked at Quirk Books, the indie publishing titan responsible for the New York Times bestsellers Pride & Prejudice & Zombies, Miss Peregrine's Home for Peculiar Children, and William Shakespeare's Star Wars. He worked on the marketing campaigns for all of these, as well as Ben H. Winters' Edgar-award winning The Last Policeman. The book trailers he's produced have been featured on Mashable, CNET, and have pulled in over two million views.