By Darby Karchut
There's a great truth that everyone in the book world knows, but sometimes, we forget: books take time. Loads and loads of time compared to a lot of other art forms. And that's where perseverance (see: endurance, grit, doggedness) comes in.
We can look at a painting or sculpture and decide right away if we like it or not. We can listen to a song—often less than ten minutes—and know if we'd wish to hear it again. Even the performing arts usually last only a few hours at the most.
Not so with the written word.
Why, just the act of reading a book takes hours or days or weeks. That's why the publishing industry creeps at such a slow speed. Everyone involved can only move as quickly as they can read. So practicing tenacity (see: stamina, determination, fortitude) is an absolute necessity.
During National Novel Writing Month, we writers are going to hear a lot about word count and getting to the magical The End. Some of us will get there, some of us will get close, and some of us won't even hit the middle. That's okay. The main thing is to keep going. To buckle on and buckle down. To hold fast to our resolve (see: staying power, purpose, drive) to write a book.
Easy to say. Hard to do.
I thought I'd share some tips that may help when your (*insert favorite synonym for "perseverance" here*) is slipping:
–Show up each day for the task, even if it's only for 30 minutes during your lunch break. Tell yourself you're going to write one paragraph while eating that tuna salad sandwich. Often, before you know it, you've written a page or several pages. Since the goal of NaNoWriMon is to write 50,000 words by 11:59 pm on November 30th (or about 1670 words a day, or about 6 pages a day), any and all progress counts.
–Squirt words as fast as you can from brain to page. Use idioms as short cuts. Forget the whole "show, not tell" and tell away if it helps propel the story forward. Don't worry that it's crap. Crap gets edited. You cannot edit a blank page.
–Don't write sequentially. If I'm not sure what happens in a chapter, I simply write, "TBWL" or "To Be Written Later" and move on to a scene I'm ready to write. When I was clawing my way through the first draft of DEL TORO MOON, about a third of the chapters had one line that read "I have no idea…yet."
–Write the final chapter first. That way, you know where you're headed. Easier to complete a race if you can see the finish line.
–Use dialogue to spur the story along. You can always come back later and fill in descriptions.
–Keep track of days and dates in your story as you go along. I'm constantly getting myself in trouble because I lose the thread of the timeline. Sometimes, I begin a scene with the words "On the following Tuesday…" or something like that, knowing I'll edit it out later.
One last bit of advice to keep you sane while deep in NaNoWriMon: Read every day. Read within your genre. Read outside your genre. Re-read a favorite book—the one that made you fall in love with story-telling. The one that made you dare dream of penning your own tale one day.
Now, go write.
____________________________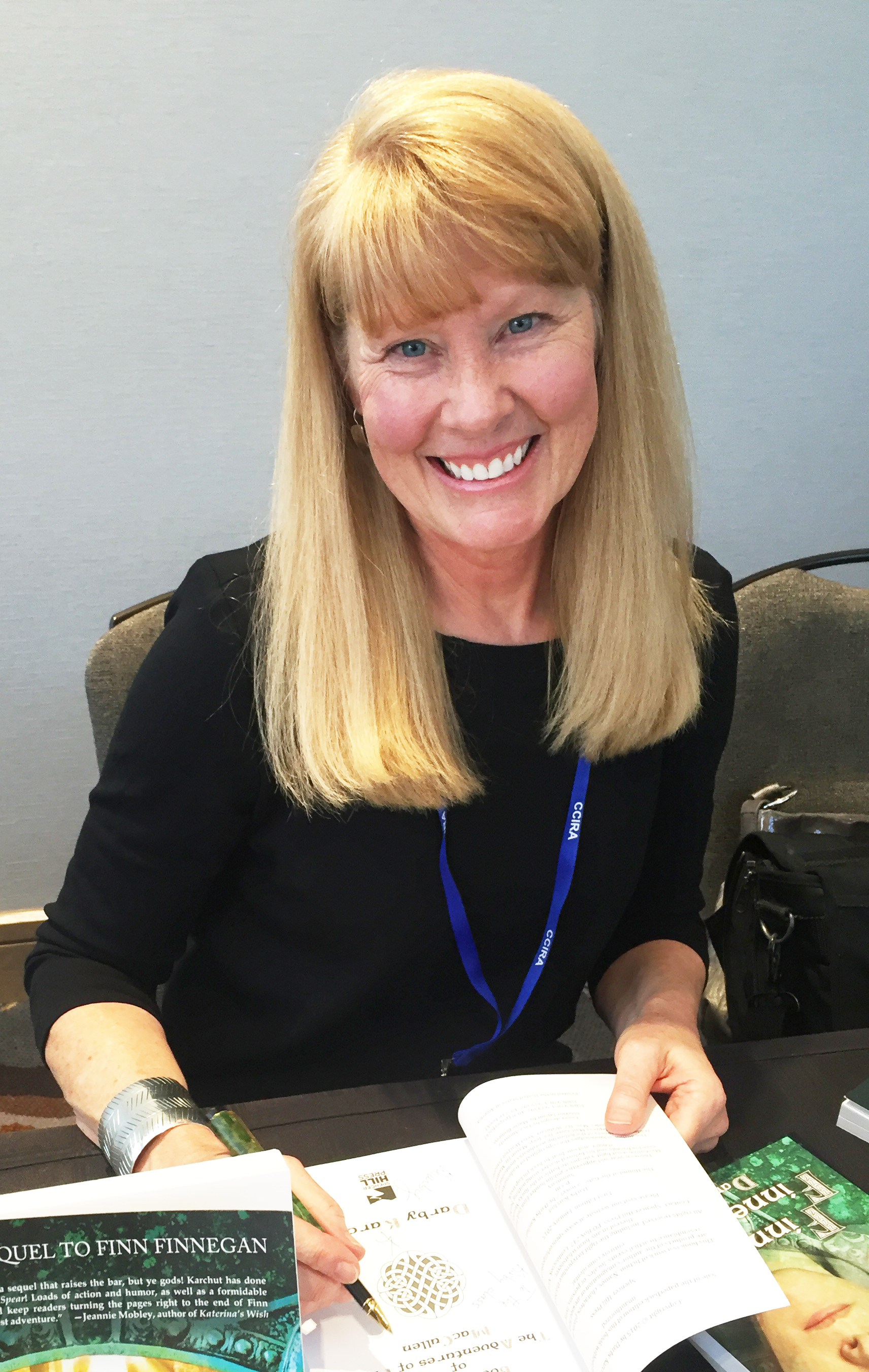 Darby Karchut is an award-winning author, dreamer, and compulsive dawn greeter.  A proud native of New Mexico, she now lives in the foothills of the Rocky Mountains, where she runs in blizzards and bikes in lightning storms. When not dodging death by Colorado, Darby is busy at her writing desk. Her books include the best selling middle grade series: THE ADVENTURES OF FINN MacCULLEN. Coolest thing ever: her YA series, GRIFFIN RISING, has been optioned for film. Her latest book, DEL TORO MOON, releases August 2018 from Owl Hollow Press. She is represented by Amanda Rutter at Red Sofa Literary. You can learn more at www.darbykarchut.com