By Dr. Trevor Strunk
Fortunately, almost no one asks me how I got where I am because of one of two reasons: either it's not entirely clear I'm in a place that anyone would want to be, or because they only know one or two of my many professional faces. Even I didn't think I'd be balancing jobs like I am now, despite my dad doing much the same my entire childhood. He was late to writing, though, and while I dabbled in music, writing and the humanities was where I flourished. I thought that I could be like my hero, Greg Graffin who sang in the punk band Bad Religion while being a professor of Evolutionary Biology on the side. I'd be a punk rocker with elbow patches, and I'd tour the world grading papers or writing the next great work of literary criticism.
Dreams don't do too well with the reality of the job market, though. And while my talents in English kept taking me from step to step, all the way to a wonderful PhD experience at the University of Illinois, Chicago, the market didn't pay me any heed. Instead of a job at a dream university and a spot in a punk rock band, I was back in Pennsylvania with a family and a lecturer's position. Closer to Greg Graffin's tenuous academic career than either of us would like to admit, I bet.
But I loved my family and wanted to make something work so I wouldn't be miserable. And really, the humanities was the only place I was ever happy. So I thought long and hard about what I would do if I couldn't get a full time job teaching and I decided I'd do the work on my own. I bought a PC, dusted off my old videogame controllers, and started doing the serious academic research that I wanted to see in the world. No one, I reasoned, was doing the work I thought could be done on videogames. So why not me?
And, one podcast, 100 episodes, and a relationship with Red Sofa later, I'm a lot closer to that. I teach, I parent, and I do my intellectual work all at once, and while the juggling is a lot of work, I don't think I'd really fit in anywhere but this bizarre and fruitful world. My path to the humanities was extremely direct, but the destination was absolutely unexpected.
______________________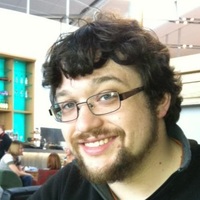 Dr. Trevor Strunk, PhD, is the host of No Cartridge,a podcast of critical analysis and commentary about video games and the gaming industry. He can be found on Twitter at @hegelbon