Title: THE WRITER'S WORKOUT
Author: Christina Katz
Pub date: Jan. 10, 2012
As many of you know, one of the books I consistently recommend is GET KNOWN BEFORE THE BOOK DEAL by Christina Katz. I personally believe it's one of the best reference books for building a platform, let alone experiencing a good writerly experience.  From the first page of that book, it's evident that Christina practices what she preaches;  that she wants to make sure other writers have the best experience possible with their own personal writing paths.
So imagine my excitement upon receiving her newest book, THE WRITER'S WORKOUT. Over the last week I've taken the time to read Christina's book, and am extremely impressed with the thoroughness of its content. So much information is covered, with every single idea and suggestion very accessible.
You can read the book from front to back, open at random pages, or read the specific sections (Spring, Summer, Fall, Winter).  It's your choice.  One entry a day = the perfect addition to one's daily writing routine. Yet another reason to add Christina's book to one's writing reference library.
There is much to be appreciated about THE WRITER'S WORKOUT.  The "sticky brain" approach, the 500-word dash, the suggestion of saving documents and blog posts that inspire you (to be read again later), honoring introspection (during the writing process), the benefits of "social artistry," and more.  Christina even includes various exercises for developing one's book ideas, one's network, and more.  I especially like her "Take 25 Actions" exercise.  (A great idea!)
THE WRITER'S WORKOUT is an interactive book that only requires you the writer, and a willingness to learn and execute new practices to one's writing routine.  In the long run, one's writerly life will benefit from these exercises.
So, do know it should be no surprise that THE WRITER'S WORKOUT will be required reading for my future clients – and highly recommended to my current ones too.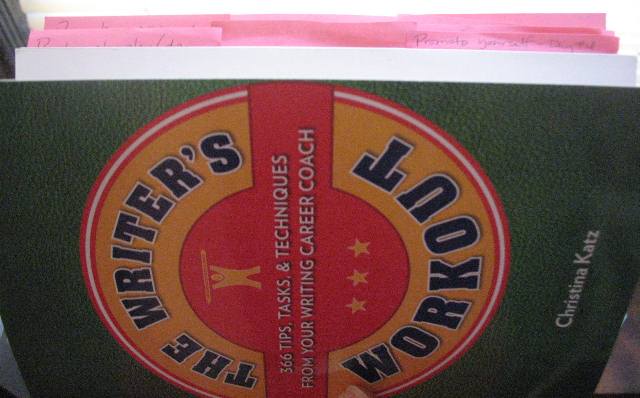 <
Last but not least, here are some pages I highly recommend from THE WRITER'S WORKOUT:
#14 – Solvency Plan
#19 – Culture a Body of Work
#21 – Writing Markets
#33 – Target Specific Markets
#38 – Dismantle Dismal Thinking
#49 – Awaken Your Senses
#62 – Lead Later
#81 – Serve Up
#83 – Unblock Yourself
#85 – Settle In
#107 – Prospect From Yourself
#110 – Dig Deeper Say More
#117 – Transform Impatience
#141 – Stockpile Resources
#144 – Stay Strong, Carry On
#177 – Don't Rush Ripe (seriously folks, a must read)
#186 – Evaluate Your Visibility
#237 – Personal Not Egomanical
#266 – Keep it Professional
#280 – Benefits of Traditional Publishing
#285 – Benefits of Self-Publishing
#295 and #297 – Strut Your Social Side (pts. 1 & 2)
#308 – Go Global
#321 and #323 – Update Your Platform (pts. 1 & 2)
#364 – Flex Your Ideas
 
So enjoy!  And go find Christina's book, as it hits bookshelves this week! 🙂