By Amber Addison
When my awesome agent asked me to write a little bit on learning from mistakes, I wasn't really sure what I would say. I'm not published yet, after all. But, because it's for NaNo, I couldn't say no, because I wouldn't be where I am now without NaNo. I started my first novel last NaNo, and now I'm writing a piece to help you survive this crazy town we call writing.
This might be your first NaNo, it might be your tenth, and you may just write for fun. Or, like me, maybe you're writing because you want to be a writer. If that's the case, then learning from the bumps (along the way) is just a pit stop on the road you're starting out on.
It goes a little like this. You write what you think is the best story ever. Then, someone you trust reads it and says "well, this could be better" and you have this weird feeling. Is it…. rejection? What am I doing wrong, what will make this "better?"
It is. And let's be honest: it sucks.
Rejection comes in many forms, what are some ways to approach it, so that it becomes a learning experience?
The first form you'll probably encounter comes in the form of criticism, like the example above. These people telling you that certain aspects of your story could be better aren't trying to hurt your feelings – they're trying to help you. They're trying to show you the holes in your story. So take that criticism, and work with it. Trust me, it'll make you a better writer.
After fixing that thing (or like me, those things) that they said could be better and someone tells you that you should really start querying agents now, it's time to get ready for a whole different kind of rejection.
When you query agents, so many of them either won't respond, or they'll respond with a clearly copy and pasted email saying that you're not for them. You'll get at least ten NOs before you get a "maybe." Then a few agents will ask you to send a partial. Maybe they'll even ask for the full manuscript. You're a ball of excitement now! It's finally working out! So you send what they asked for and you impatiently await for these agents who seem interested to read your work and get back to you.
You stalk your email.
No really, you literally stalk your email. Bet you didn't even know that was a thing until now.
Then one day, you open an email from an agent who really liked your work but doesn't think you're a good fit.
Now you feel like giving up, right? Don't do that, it's a mistake you want to avoid. The best tip I've gotten as an aspiring author and the best tip I'll ever give is:
Don't. Give. Up.
Query another round of agents.
Eventually, one will love your work and she'll want to help you every step of the way.
Let's flip the script a little, maybe the above scenario is not how it'll go for you. Maybe, like me, you get lucky and you find an agent who believes in you rather quickly. You'll sign with her and feel fantastic….and you'll still get rejection emails from other agents months later.
So you've got an agent. It's all smooth sailing from here right? That would be next mistake, as rejections will continue to happen.
You and your agent will submit to publishers and the stalking of the email will start again. As an author who's in the submission process, I can tell you that the act of learning patience is something I don't know I'll ever learn.
So, publishers have your work and you're impatiently awaiting them to say "We want to sign you!" …and then the first round of rejections come in.
Sometimes like with agents, they're copy and paste letters that feel impersonal and make an author want to give up. Sometimes these publishers send you heart felt rejections showing how much they loved your work, but that it's just not for them. And while those types of rejections feel like a mixed bag of "this sucks" and "wow that was nice" – they're still rejections.
That's where I am now, but I'm surviving it.
I choose to keep my head in the game, to not throw in the towel.  To remind myself that I do not feel stuck. That I do not feel like giving up. In fact, I'm writing my second novel.
What I'm saying with all of this is that your book isn't going to be for everyone, just like everything you read isn't something you fall in love with. That doesn't mean you should hang it up and stop writing.
Rejections are just part of the business. Don't let rejections lead to future mistakes. Eventually, you'll find all the right puzzle pieces that go together and your book will land in the hands of someone who loves it as much as you, and you'll laugh about all the times you stalked your email.
Keep your chin up, and keep those fingers moving. You'll get there.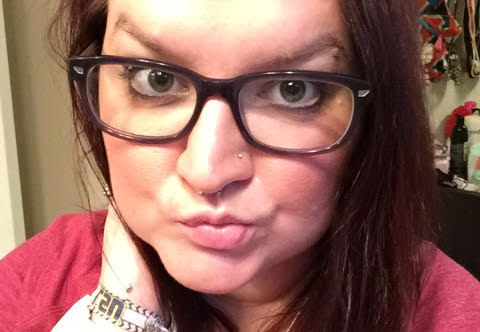 Amber Addison has a background in mass communications and marketing from The University of Southern Mississippi. She attended Mississippi State for a Broadcast Meteorology stint before deciding that her original dream of working in PR and marketing was the right one for her. During her time in the "corporate" world, Amber has worked as a radio intern, an all girls MMA podcast host, and a social media personality for MMA. She created a brand for herself as an amateur cage fighter and then again as a book blogger after she started her family.  She's been an integral part in getting street teams off the ground and is now using her experience to help build her brand as a debut author.  She's not afraid to put herself out there to get the job done and absolutely loves being involved in all aspects of her job as a social media manager and now as an author. She recently finished her first novel and began working with Bree and Red Sofa.
She's obsessed with her daughter (lovingly referred to as her "mini me"), her pets, coffee, socks, bath bombs, and happy ever afters. You can find her on FaceBook, Twitter, and on instagram at grownupfangirl or amberjusm.