By Molly Maguire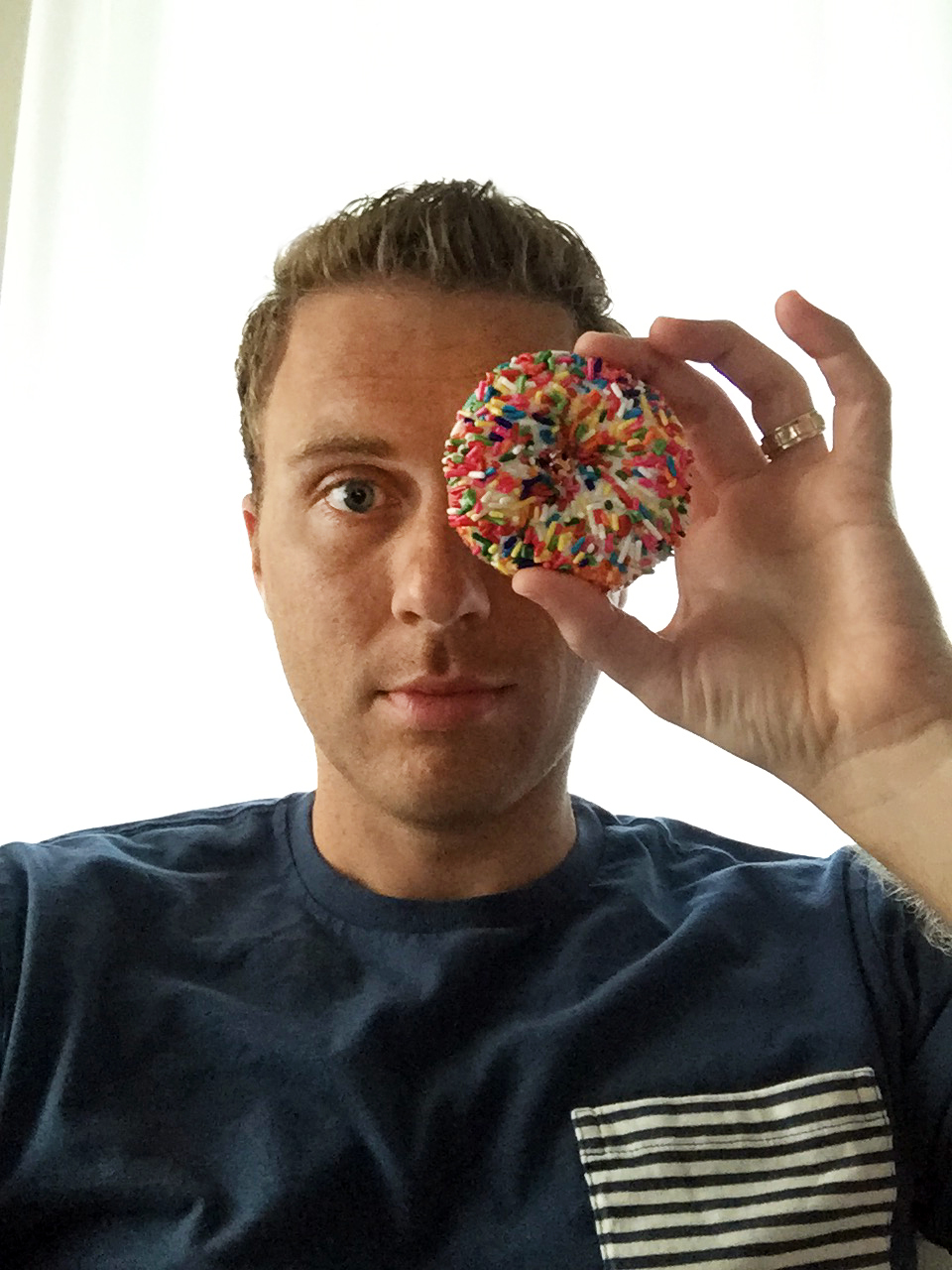 Brian Gonsar is represented by Stacey Graham. He has a background in producing TV commercials, feature films, music videos, and more. Currently, he's working as an author of children's books. We got the chance to chat with Brian about kid lit, his writing process, some of his recent projects, and his love of donuts. Thanks for chatting with us Brian!
What made you want to write for children?
I've always had a lot of little (albeit quirky and weird) stories floating around in my head.  With my job, I travel a lot.  Typically I'm in a hotel room over 100 nights a year.  Writing gives me something to do with all that downtime.  And I've always gravitated to picture books / shorter stories versus novels.  I'm a producer (feature films, commercials, music videos), but mainly I create short TV ads.  In a sense, they're short stories, so my brain has been trained to think of quick ways to tell stories.
What is your favorite thing about kid lit, and are there any changes you'd like to see to kid lit?
The best thing about the kid lit community is the people.  Everyone I meet at conferences, author readings, online are so friendly!  I'd love Hollywood to start noticing picture books.  I could see a ton of stories being turned into animated shorts.
What were your favorite books as a child, and what are some of your favorite children's book now?
The three books I remember the most were Dr. Suess' How the Grinch Stole Christmas (the rhyme and inventive characters), Sideways Stories from Wayside School by Louis Sachar (the off-the-wall stories), and Jeremy Thatcher, Dragon Hatcher by Bruce Coville (the imagination and world creation).  They all stuck with me as a kid.
Now, I still gravitate towards comedic stories in the picture book world.  I love Adam Rubin's entire body of work (especially Secret Pizza Party).  And whenever I read my niece a bedtime story it's usually Lady Pancake and Sir French Toast by Josh Funk or Woodpecker Wants a Waffle by Steve Breen.  Actually, maybe it's food-related books I like more than comedy.
What is the biggest challenge of writing books for kids versus adults? How have you faced that challenge in your work?
The biggest challenge is thinking like a kid.  Not only with vocabulary and themes, but also with attention span.  I tend to be wordy with my first drafts, so I always need to trim it down.  Every word counts, especially when dealing with short attention spans.
What are some resources you've used to help with your writing process? Do you share your early drafts with other people, or keep them to yourself until they're ready to be edited?
My critique group is invaluable.  Each person, whether they know it or not, contributes something different to my stories.  They help me see where plot points are missing and they help better each manuscript.  I make sure to test it with them before sending it anywhere.  Rhymebrain.com (if I'm writing something that's rhyming) and thesaurus.com are huge helps too.
Can you talk a little about the picture book you have on submission right now?
I have a book called "What Not to Spell in Your Soup" out on submission right now.  It's food related (which most of my stories happen to be) and I thought it might be fun to see what would happen if the words Gus (my main character) spelled in his alphabet soup actually appeared in the room.
I'm also working on some twisted tales of spooky stories and legends now.  It's like a fractured fairy tale, but instead of Little Red Riding Hood, it's creatures like Dracula, the Headless Horseman, the Loch Ness monster, and so on.  It will be a humorous book of short stories for middle grade readers (which I'm excited about).
You have a website dedicated to reviewing different donut shops, and also frequently post on your instagram when you find a good donut. Why donuts?
I've always been a big fan of donuts. What's not to love?  And since I travel a lot for work, I'm always around the country looking for new and interesting donut places.  When friends started asking me where to get good donuts and other people started recommended places to me, I thought it might be fun to catalog my glazed adventures in a blog and on my Instagram feed.
Thanks again to Brian for taking for this Q&A! Check him and his work out at his social media linked below:
Twitter
Instagram
Website
Donuts!